by: Bethany Bannister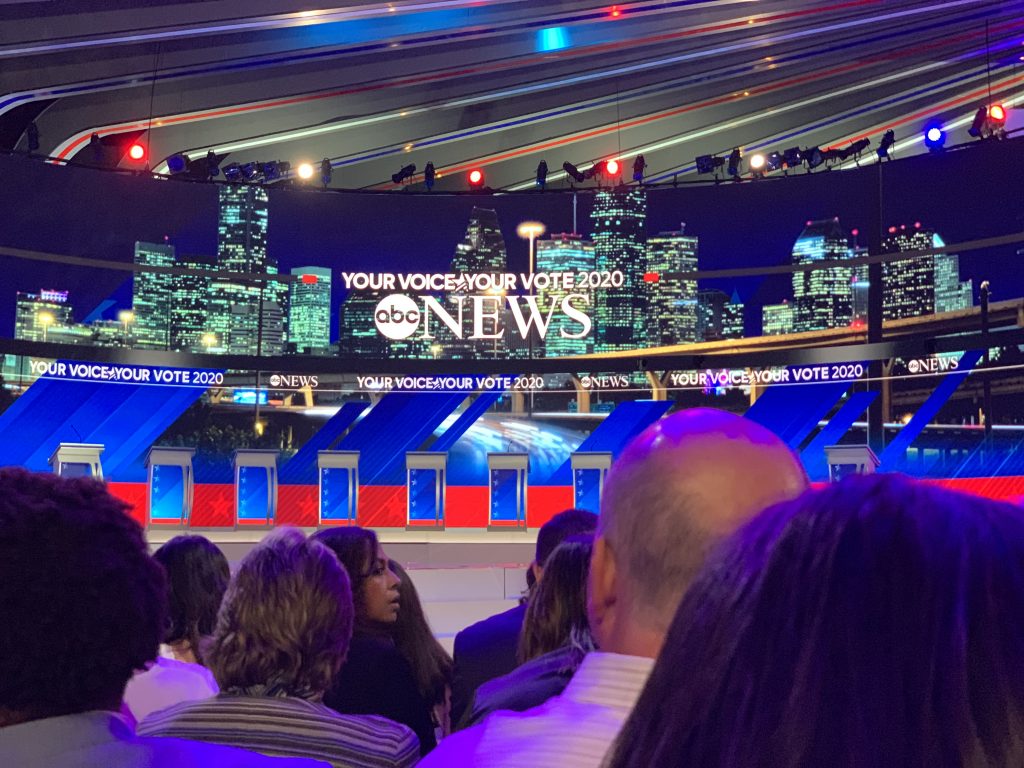 The excitement was in the air long before we took our seats at the Health and Physical Education Arena on the Texas Southern University campus. From passing supporters of various campaigns outside, to being walked onto the same floor where the debate stage stood mere feet away, there was little to contain the enthusiasm and curiosity of how the next few hours would unfold.
First up, we were welcomed with speeches given by James Goldson, President of ABC News; Austin Lane, President of TSU; Sylvester Turner, Mayor of Houston; Gilbert Hinojosa, Chair of the Texas Democratic Party; and Tom Perez, Former Secretary of Labor and current Chair of the Democratic National Committee.
Shortly thereafter, George Stephanopoulos introduced his fellow moderators: David Muir, Lindsay Davis, and Jorge Ramos, and we were one hour in to a four-hour seated session as the candidates were announced and came on stage and the main event got underway.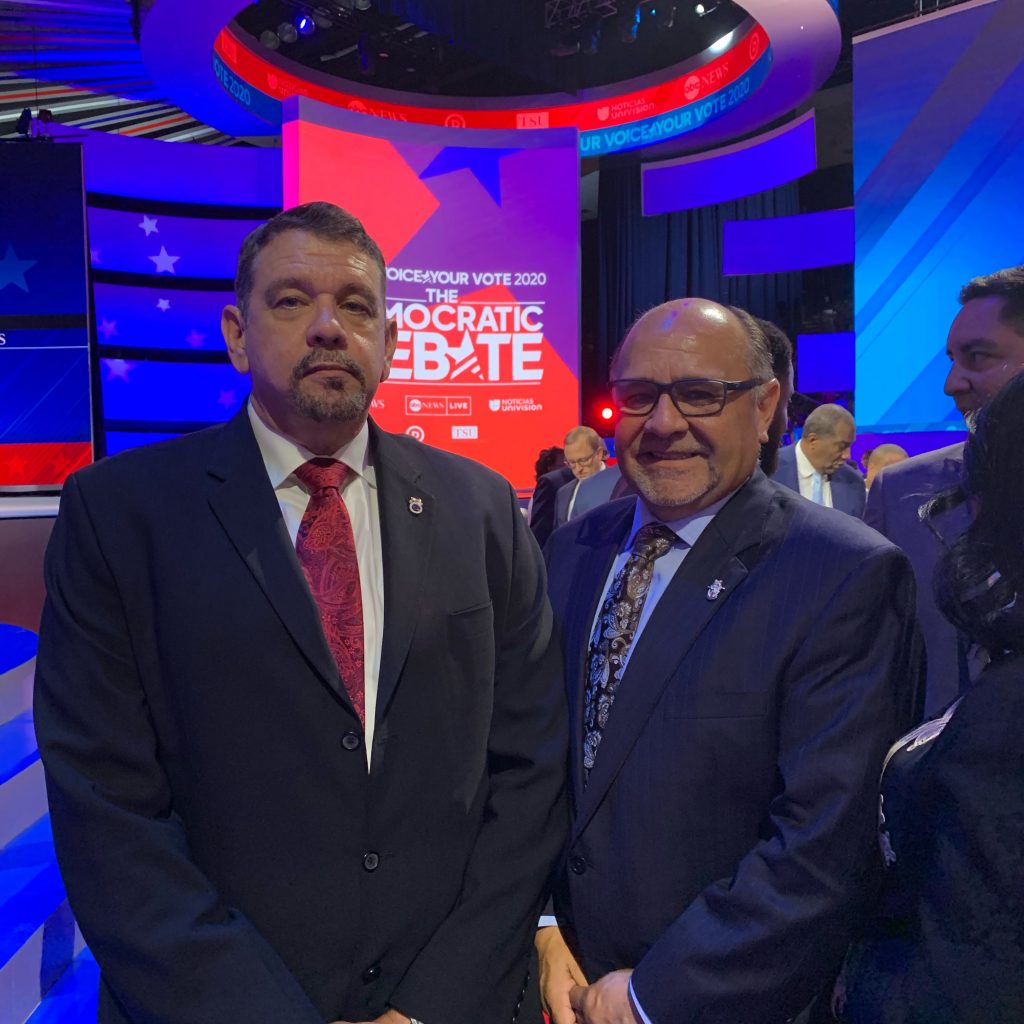 Normally when I watch debates from the comfort of my own living room, I'm watching them for myself. This time, though, I had the lens of labor squarely in my vision. I waited anxiously for the first mention of unions or labor, which would eventually come from (former) Congressman Beto O'Rourke during a raucous health care debate, was one of very few references to labor throughout the evening.
It was disappointing to be seated near so many people at the helm of labor unions, representing millions of Americans all across the nation, when so little of what we heard addressed the crux of our members' issues.
We get it. Labor is not a hot button issue, but that makes me question why?
Our issues affect millions of Americans, both working and retired. The upcoming pension crisis the Teamsters have been fighting for years has the ability to wreak havoc on the national economy if it's not shored up in the very near future.
As the buying power of the minimum wage decreases year after year, labor has been standing on the forefront of insuring good jobs for their members, while being demonized by corporations.
Where health care is a crisis for many Americans, labor has been able to work on behalf of its members to ensure they receive good health care.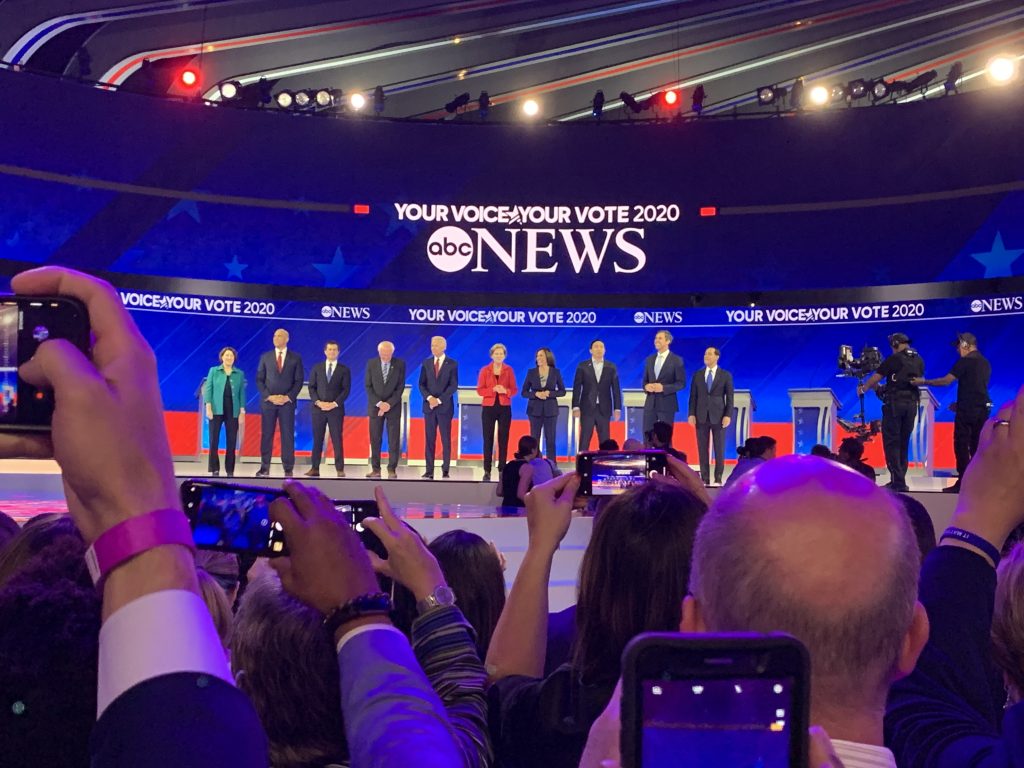 But even so, the Democratic Party has done its best to distance itself from the Labor movement up until recently, when unions began to find favor with a growing number of Americans. Younger people are leading the surge to where now 49 percent of Americans would join a union if they were able to do so., It is no mystery when labor fights for the middle class, while those struggling to stay in it and those drifting out of it are seeking to resurrect a strong movement to ensure their rights as workers, to earn a living wage, safe working conditions, health care and a good retirement.
As President Hoffa said, "At a time when Americans are grappling with how to support themselves and their families now and in the future, this country cannot turn a blind eye towards these matters."
We are in a time when so many issues define the presidential election, but more than anything, how people make a living, how hard they work, and where the bar is set defines life in America. For too many people in America that bar is set too high. Labor, the great equalizer, should be mentioned by presidential candidates who are driving the issues we debate on as much as our 24-hour news cycle. Of the 1992 presidential election, in which a young Bill Clinton unseated an incumbent, James Carville once said, "It's the economy, stupid."
He wasn't wrong.